About
The Board of Library Trustees is a group of nine Bridgewater citizens who are elected individually in the annual town election for three-year terms. The Board is one of three elected town Boards and each Trustee is a representative of the Bridgewater citizens, collectively. The Board volunteers to provide oversight and advisement to the Bridgewater Public Library and Library Director in the pursuit of their mission to educate, inform, enrich, and inspire.
The Board is active in supporting Library and Town events and outreach, in providing recommendations on Town Charter and other policies that govern the Library, and in advocating for resources to support the Library as it supports our community. Public attendance at the Trustees' meetings is both welcome and encouraged.
A Statement from the Bridgewater Public Library Board of Trustees
---
Trustee Tidbits
On June 18, 2022, the Town of Bridgewater held its second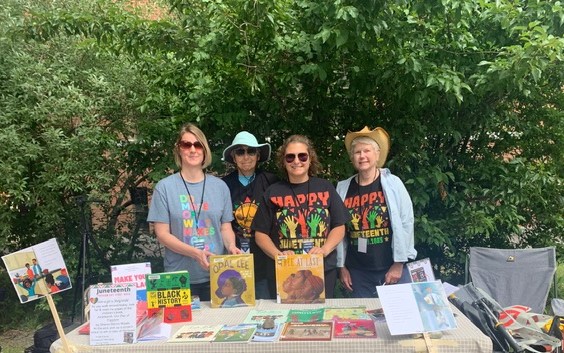 annual Juneteenth celebration. This event was hosted by BCCR and the Unitarian Universalist Church, where it was held. For the second year in a row, the Bridgewater Public Library Board of Trustees participated in this community-wide event. With a focus on children, the Special Events and Outreach committee of Jen Anderson, Stacey Decotis, and Janet Dye planned several activities. These included a story book trail featuring a book about Juneteenth. Both you children and their older siblings and parents enjoyed following the stops on the trail and learning more about the meaning of the event we were celebrating. Those who completed the trail received a scratch ticket for a chance to win a Juneteenth book. Kids also had the opportunity to create a construction paper Juneteenth flag. For the adults, an array of Juneteenth related books were on display for their perusal with a reminder that all are available for checkout at the library.
With music, food, smoothies, vendors, a photo booth, and more, a good time was had by all. Hard to tell who enjoyed it more, the kids or the adults. The Trustees were happy to participate in such a worthwhile event where our town can come together for an afternoon of fun, friendship, and learning. 
Words to Ponder
"Libraries store the energy that fuels the imagination. They open up windows to the world and inspire us to explore and achieve and contribute to improving our quality of life. Libraries change lives for the better." -Sidney Sheldon
---
Board Members
Andrew Harding

BSN Saint Anselm College,  MS Bridgewater State University

DNP MGH Institute for Health Professions, CNO South Shore Health

When not at the library: I enjoy spending time with my family, reading and golfing.  

 
 

Constance Franciosi

BA Ohio Wesleyan University, MA Ohio State University, MAR Yale Divinity School, EdD Boston College

Retired Special Education Department Head with Brockton Public Schools

When not at the library: I like to travel the country and world vicariously through the magic of amateur radio. 

 
 

Danielle Oliari

BA Boston College, MAT Boston College, MA New York University

COO, Prinicipal CNT at CNT DEP, Director Little Brick Schoolhouse

When not at the library: I enjoy (almost) anything with my family, reading, and dancing.

 
 

Janet Dye

BA Michigan State University, MS Northern Illinois University

Retired teacher of children with Learning Differences, current tutor of elementary aged children, mother and grandmother. 

When not at the library: I can be found reading, gardening, quilting, enjoying physical activity, and volunteering for my community and church.

 
 

Jennifer Anderson

BA UMASS Lowell, MA Endicott College

Special Education Teacher for Brockton Public Schools

When not at the library: I like to go hiking and exploring new places with my son.

 
 

Matthew Gerritsen

BA University of Connecticut, Juris Doctor Suffolk University

Attorney

When not at the library: I can be found watching soccer games, loiter over coffee, and work on our old house.

 
 

Nancy Sarno

BS Ed  BSU, Graduate work at BSU and UMASS Boston

Retired physical education teacher

When not at the library: Retirement has meant more time for reading, gardening, traveling, community service and the grandchildren.

 
 

Robyn Golden

BS University of New Haven, MS University of New Haven

Director of Housing Services Northeastern University

When not at the library: I enjoy local outings with my family and watching football on Sundays.

 
 

Stacey DeCotis

BA Ed Stonehill College, MA Special Education Lesley University 

Middle School English Teacher

When not at the library: I am spending time with my family, especially outdoors, volunteering for community events, and writing.
Meetings
Meetings take place every third Tuesday of the month September through June at 7 PM at the Library.
---
Meeting Minutes
---
Have questions or concerns? The Board of Trustees welcomes your input. Send them an email at trustees@sailsinc.org.