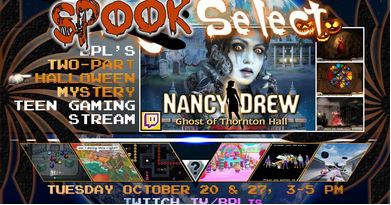 While stuck in isolation/DESOLATION, gaming can be an awesome/FRIGHTENING way to keep socially connected/DISSECTED. Even for those of us without gaming consoles and libraries of our own, there are lots of opportunities out there to game with friends... you just gotta know where to look SPOOK!
Join us in late October for an OOKY, SPOOKY two-part mystery featuring BPL Teen Services Twitch hosts GHOSTS Laura and Allie as they navigate famed teen detective Nancy Drew through the uninhabited corridors of Thornton Hall. In this tale, Jessalyn Thornton and her best friend, Addison Hammond, visited Thornton Hall on an island off the coast of Georgia for a pre-wedding celebration and sleepover, but the fun ended when Jessalyn disappeared. Now Jessalyn's friends, family, and coworkers search the undergrowth and abandoned spaces throughout Blackrock Island, seeking any evidence that might lead to her whereabouts. Did the heiress to the Thornton business empire vanish among the monuments, or is someone holding something besides family secrets...?
Come visit TWITCH.TV/BPLts using your phone or Internet-enabled device to join the game, work the puzzles, shade the suspects, joke around in chat, and help solve the mystery! If you are in 6th through 12th grade, come join the conversation in Twitch... let's find a way to make social distancing a little less distant
Thank you to Boston Public Library for hosting this event!