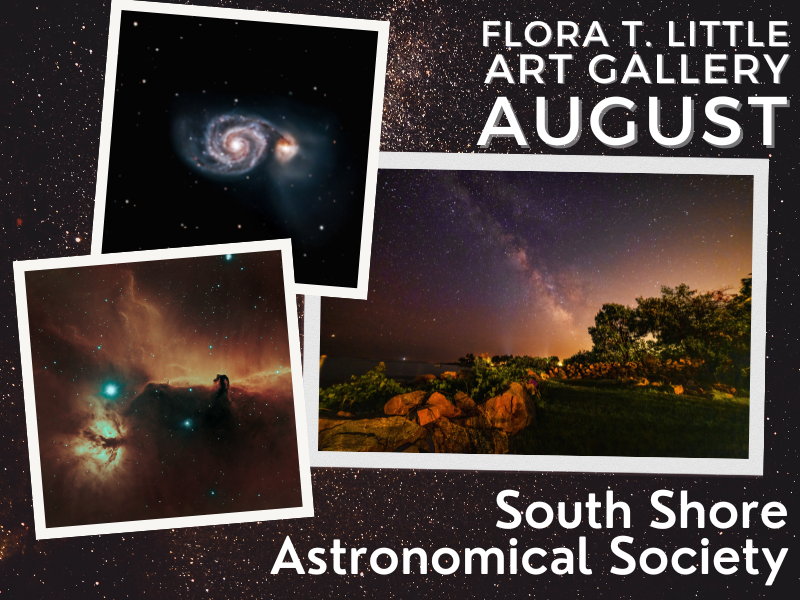 The Flora T. Little Art Gallery is featuring astrophotography by members of the South Shore Astronomical Society for the month of August. 
Stop by to look at the photographs and join them for two presentations, Wednesday, August 3 from 6:30-8 PM and Thursday, August 18 from 1-2 PM.
Wednesday, August 3 presentation will include:
6:30 PM: Matt Schricker speaking about Light Pollution
7 PM: Steve LaFlamme speaking about the Sun
7:30 PM: Jim Ahola speaking about dwarf planets MakeMake and Pluto
Also, weather permitting they will have a couple of telescopes set up outside and focused on the Moon. All ages are welcome, no registration is required.
Thursday, August 18: Picturing Space
Join kids' space author and South Shore Astronomical Society President Carolyn DeCristofano for a hands-on exploration of how astro-imaging works. Carolyn is the author of several STEM books for kids, including National Geographic Kids Ultimate Space Atlas and A Black Hole is not a Hole for middle grade readers and The Sun and the Moon for younger readers.)
This event is recommended for elementary age and up. No registration is required.