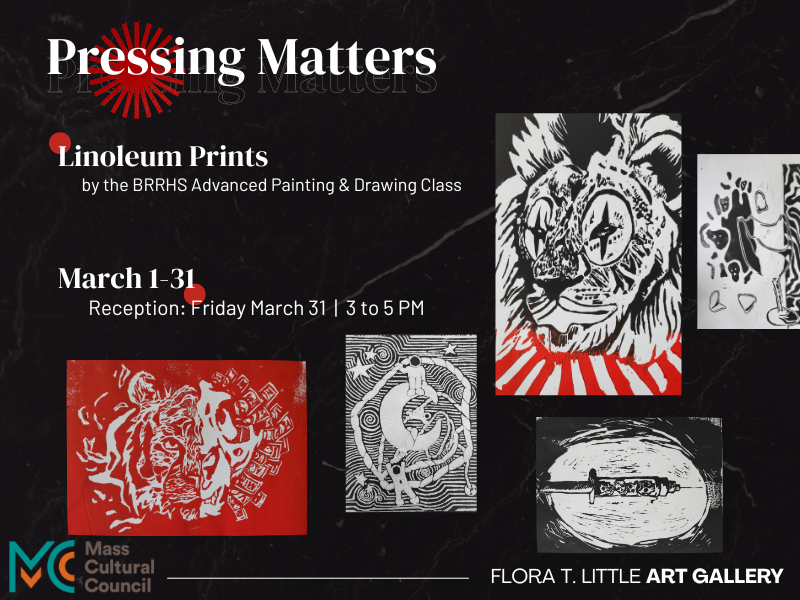 Stop by the Flora T. Little Art Gallery throughout the month of March to see the Bridgewater-Raynham Regional High School Advanced Painting & Drawing Class show, Pressing Matters.
This show features a series of linoleum prints based on social justice issues students felt strongly about. Made while working with artist and printmaker Nancy McCormack Demren and BRRHS art teacher Shirley Wood. 
Join the artists at their closing reception on Friday, March 31 from 3 to 5 PM.
Advanced Drawing & Painting is a second-year art course with the class consisting of mostly sophomores and juniors with a few senior students. Nancy McCormack Demren is a multidisciplinary artist working primarily in printmaking, painting, and sculpture. She earned a BFA in Painting from Rhode Island School of Design in 2002 and an MFA in
Studio Practice from The City College of New York in 2012. McCormack has also worked extensively in book and paper conservation. Nancy moved to Turkey for three years where she taught Printmaking at Bilkent University. She has shown her work throughout the U.S. and internationally. She currently works at UMass Boston. Shirley Wood has been a visual art teacher at Bridgewater-Raynham Regional High for 26 years. In the the course of her career she has been named a local Walmart Teacher of the Year and a Christa McAuliffe Scholar's Teacher among other distinctions.
This program is supported in part by a grant from the Bridgewater Cultural Council, a local agency which is supported by the Massachusetts Cultural Council, a state agency.