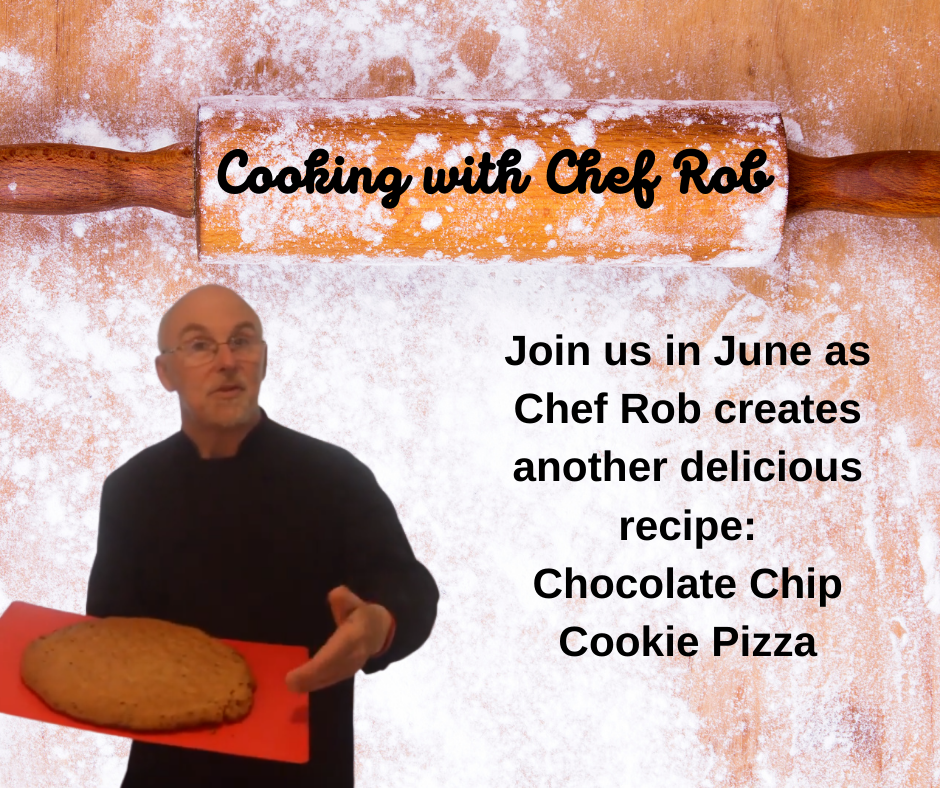 Watch the video to learn how to make Chef Rob's Chocolate Chip Cookie Pizza! 
Print out the recipe and make at home for a yummy snack (or dinner- we won't judge you!)
Chocolate Chip Cookie Pizza
2 cups all purpose flour
2 teaspoons cornstarch
1 teaspoon baking soda
½ teaspoon salt
¾ cup softened unsalted butter
¾ cup packed light or brown sugar
¼ cup granulated sugar
1 large egg, at room temperature
2 teaspoon pure vanilla extract
1 ¼ cup semi-sweet chocolate chips
Preheat oven to 350F. Lightly grease your pizza pan.
Whisk the flour, cornstarch, baking soda, and salt together in a medium bowl. Set aside.
Using a hand mixer, cream the butter and both sugars together on medium speed about 2 minutes. Add the egg and beat for 1 minute. Scrape down the sides and bottom of the bowl as needed. Add the vanilla extract then mix on high until combined.
Add the dry ingredients to the wet ingredients, and mix on low until combined.  Add the chocolate chips, keeping the mixer on low speed.
Transfer the cookie dough to the pizza pan and flatten out with your fingers or a rubber spatula until the edges reach the sides.
Bake for 22-25 minutes or until puffed and lightly brown on top. Allow the cookie pizza to cool on the pan set on a wire rack before slicing. Cover leftovers and store at room temperature for 2-3 days, or in the refrigerator for 5 days.