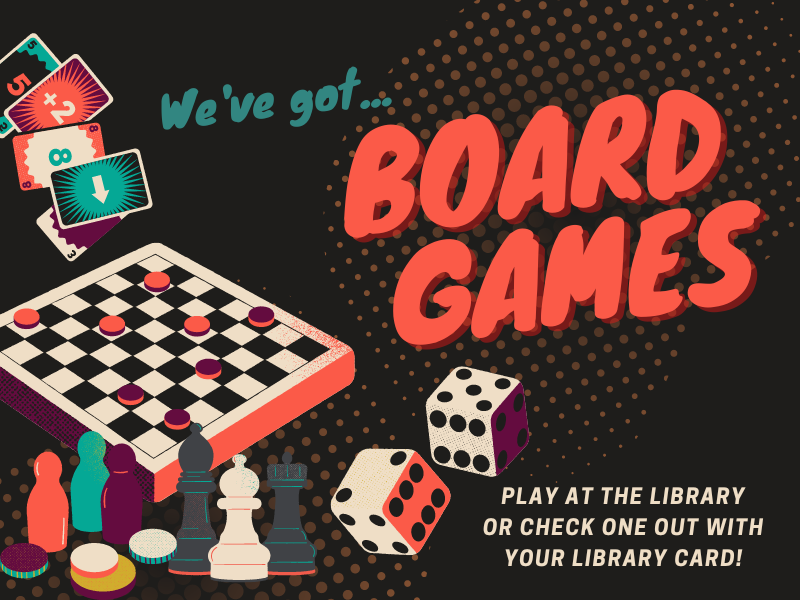 We've got board games! Our Board Game collection is first come, first served. Play in house or take one home with your library card for two weeks. Board Games are part of the Library of Things and ae subject to a $5/day late fee. 
See tons of other games in our Library of Things
Board Games:
Apples to Apples
Arkham Horror: A Board Game of Arcane Mystery & Supernatural Terror 
Azul
Bananagrams
Catan
Chess & Checkers Set
Coup
Dungeons & Dragons: Wrath of Ashardalon
Exploding Kittens: A Card Game for People Who are Into Kittens and Explosions and Laser Beams and Sometimes Goats
Forbidden Desert: Thirst for Survival
Istanbul 
Letters from Whitechapel
Monikers
NMBR 9: Take it to the Next Level
Patchwork
Photosynthesis
Qwirkle
Risk: The Game of Strategic Conquest
Sorry!
Telestrations: The Telephone Game Sketched Out
Terraforming Mars
Tarot Cards
Ticket to Ride: The Cross-Country Train Adventure Game!